Competition creates the ideal context in which to explore personal values and conduct, as through it young people can learn how to handle victory and defeat, how to believe in their abilities and achieve their personal best, and how to respect their opponents and work with their team-mates to achieve success.
The way in which schools communicate these values and involve young people in championing this cause will help bring the 'Spirit of the Games' to life. This will ensure that competitive school sport is a rich learning experience for our young people, and one which develops them to be not only the best sportsperson they can be but the best person as well.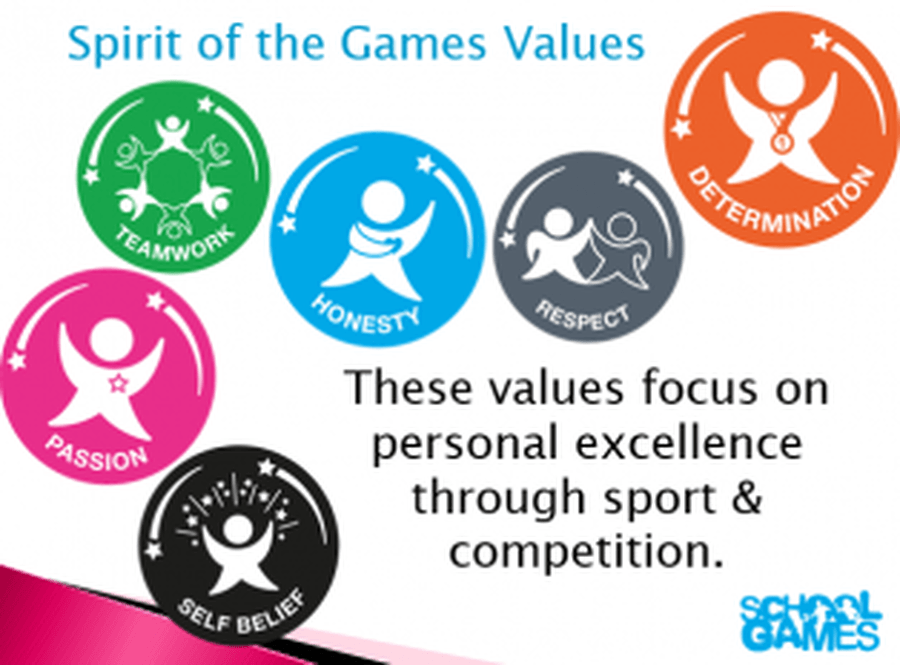 School Games Sports Mark
We are very proud to announce that once again we have been awarded the School Games silver games mark; testament to the enthusiasm, determination and team work all of the children have put in over the past year. Well done everybody!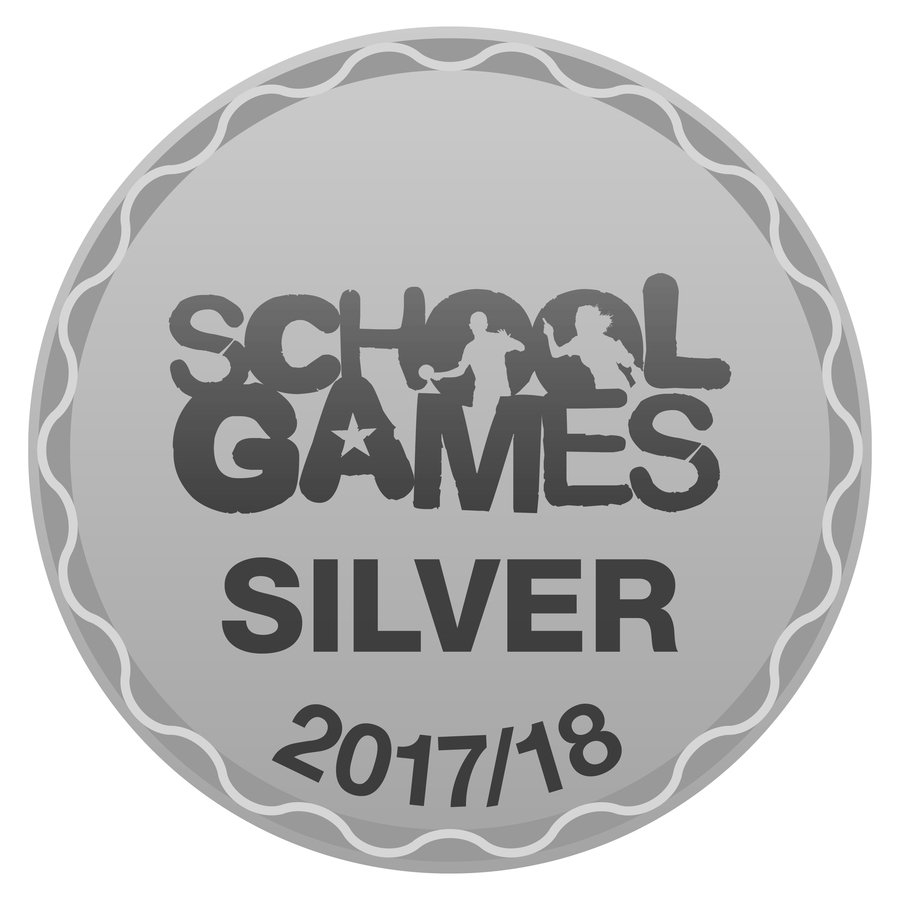 Tuesday 5th March 2019 Year 5/6 Daventry District Swimming Gala @ Daventry Leisure Centre 12:00-3:00pm
Tuesday 26th March 2019 KS2 Daventry Schools Cross Country Competition @ Daventry Sports Park 12:00-3:00pm
Wednesday 3rd April 2019 Year 5/6 Hi-5 Netball Tournament @ Guilsborough Academy 3:45-6:00pm
Tuesday 30th April 2019 Year 3/4 Quicksticks Hockey Tournament@ Parker E-ACT Academy 3:45-5:45pm
Wednesday 8th May 2019 Year 3/4 Tri-Golf Festival @ Guilsborough Cricket Club 4:00-6:00pm
Tuesday 4th June 2019 Year 5/6 Kwik Cricket Tournament @ Guilsborough Cricket Club 1:00-4:00pm
Tuesday 2nd July 2019 Year 5/6 Go-ride Cycling Event @ Daventry Sports Park 10:00am-12:00pm
Extra-curricular sports clubs this term
Wednesday 8:00-8:55am Years 1-4 Gymnastics
Wednesday 3:30-4:30pm Year 5/6 Hi-5 Netball
Thursday 3:30-4:30pm Years 2-6 Street Dance
Friday Lunchtime KS2 Girls Tag-rugby
Friday 3:30-4:30pm Years 5/6 Dodgeball
Year 5/6 Daventry District Swimming Gala
Our brilliant Year 5 & 6 swimming squads took part in Northamptonshire Sports Daventry Schools Swimming gala in March. This was a very professionally run gala with judges and timekeepers from Daventry Dolphins Swimming Club, with 17 schools from the district attending. Our 'B' team finished 12th with our 'A' team finishing in a fabulous 5th place. The children showed superb sportsmanship, encouraging each other and cheering everyone on, some children had to stand in for others at short notice, which they did with enthusiasm. We are very proud of them all! Well done to the whole squad: Millie, Harriette, Louis, Lewis, Max, Zack, Edward, Penelope, Lauren, Damian, Fin, Ava and Anna.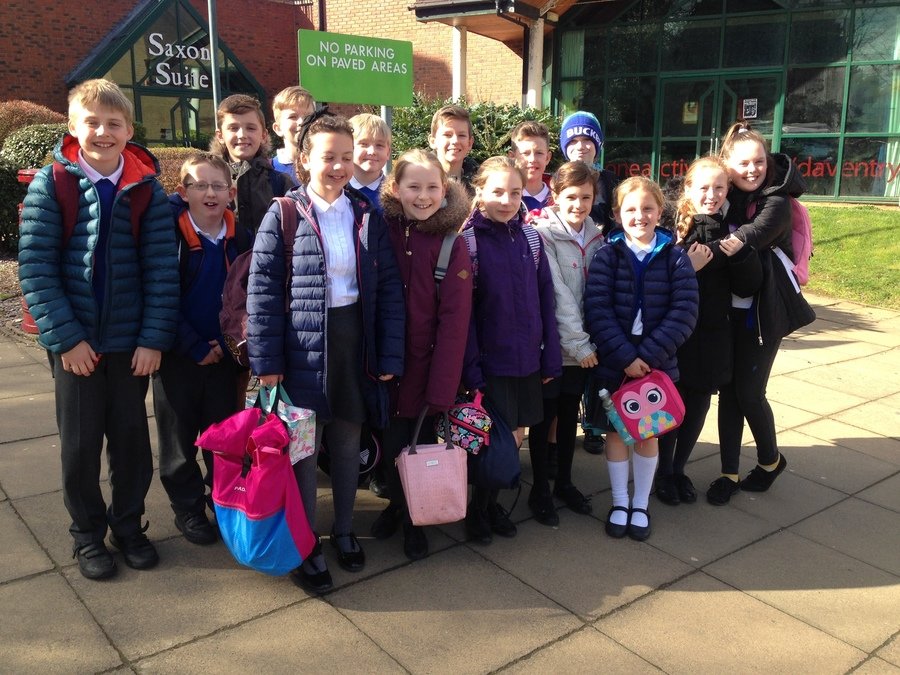 Ks1 superhero festival
Some of our amazing KS1 children recently took part in a new event to our sporting calendar - The KS1 Superhero Festival. They all demonstrated the key values for success in sport: Determination, Honesty, Teamwork, Respect, Passion and Self-belief, and represented the school fantastically. They were polite, listened carefully to the Young Leaders from the Parker E-ACT, were keen to try all the activities on offer and we are extremely proud of them. Well done everyone!
Sportshall athletics
Our Year 5/6 Sportshall Athletics squad have had a successful time recently. Following their cluster win ii December they recently finished a creditable 5th in the District finals. We were the first single-form entry school in the overall results, showing the depth and perseverance of the whole squad. Well done to you all!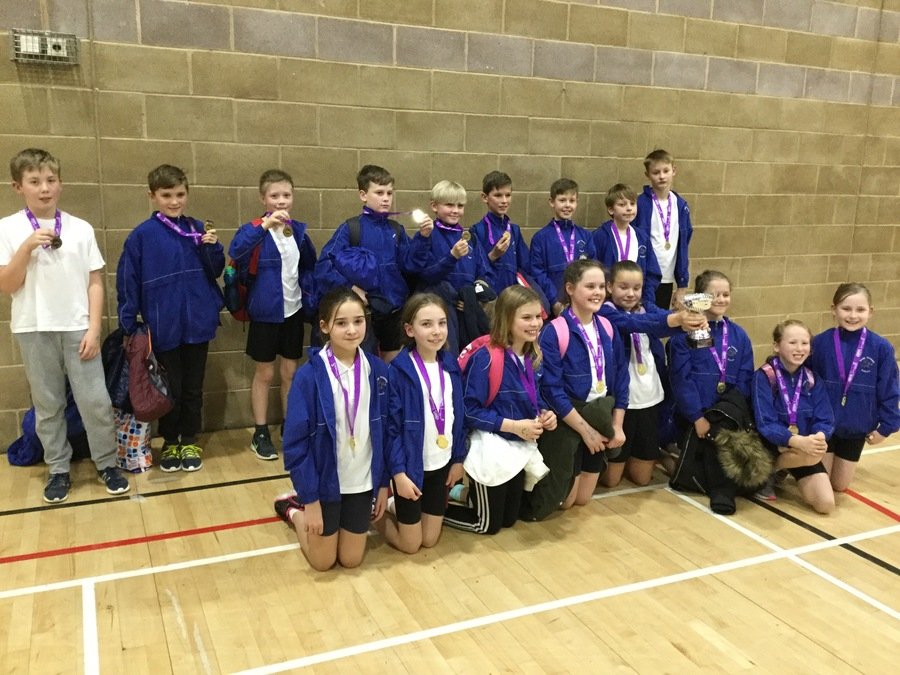 Years 3 and 4 Football Tournament
Our Year 3/4 football squad have worked hard in training and performed superbly at the Northamptonshire Sport, Daventry North cluster tournament. They finished 4th overall, which was a superb result considering the squads finishing 1st and 2nd were made up from Year 4 players only. There were some superb goals scored with brilliant goalkeeping skills demonstrated by Freddie and Rhys. Great teamwork was shown by all with particularly encouraging comments from Kole! The whole team demonstrated the Spirit of the Games values and we are extremely proud of them. Our team were: Kole, Fraser, Rhys, Freddie, Ethan, Archie, George, William and Toby - well done boys!
Sports Crew Training Day
Our new Sports Crew attended their training recently at Moulton College's superb facilities. It was an extremely hot day, with the morning spent developing their own games and learning other games and activities to introduce back at school. In the afternoon, the children showcased their own games to the rest of the Sports Crews from across the district.
We welcome our new Sports Crew this year who are; Millie, Jamie, Edith, Zack, Connie, Edward, Louis and Josh.
Year 1/2 Inter-house Football Tournament
In the spring term, we held our Year 1/2 Inter-house football tournament. This took place at lunchtime, with the teams capably organised and coached by our House captains; Hermione, Fin, Liam and Jake. Everyone took part upholding the Spirit of the Games values, showing great sportsmanship, teamwork and respect for others, the coaches and officials who were our Sports Leaders; Connie, Theo and Toby. Well done to everyone who took part and special congratulations to Squirrels who won the tournament overall.
Year 5/6 Sportshall Athletics District Finals
We were all very proud and excited to take part in the South Northants & Daventry Sportshall Athletics District Finals on Thursday 18th January. Our team did fantastically well to finish 5th overall on the day. We were the highest placed single-form entry school in the finals, a fabulous achievement. The result had added value when we found out that the competition had been open to 93 schools overall! Well done to the team of Alfie, Hermione, Fin, Liam, Ebony, Theo, Toby, Phoebe, Jake, Sophia, Zack, Harriette, Lewis, Louis, Chloe, Angelica, Connie, Shannon and Jacob. We looked super smart in our new team kit!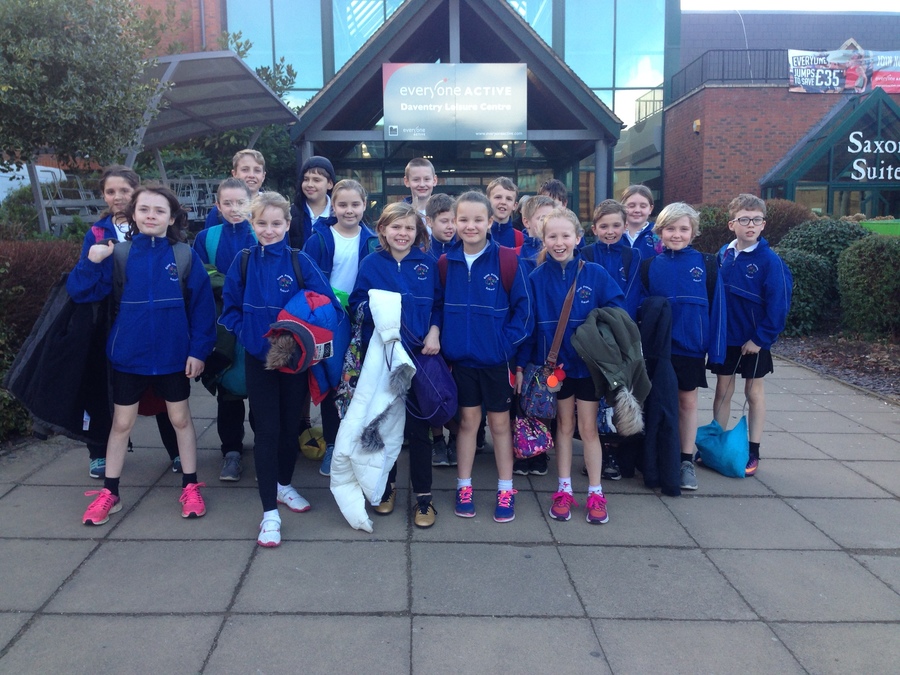 Year 5/6 Sportshall Athletics Competition
On Thursday 7th December our Sportshall Athletics squad made the journey to Daventry Leisure Centre to take part in the South Northants and Daventry annual competition hosted by Northamptonshire Sport. All the children have been perfecting their field and track event skills during our PE sessions in school, and they demonstrated their prowess by winning the competition overall!
There were 14 schools taking part and we proved we could run, jump, throw and bounce superbly well.
Well done to the whole squad: Hermione, Jake, Harriette, Theo, Phoebe, Lewis, Shannon, Toby, Connie, Fin, Angelica, Louis, Sophia, Zack, Chloe, Jacob, Alfie and Liam. The District Finals are on January 18th 2018.
Inter-house Tag-rugby tournament
This week we held our Year 5/6 Inter-house Tag-rugby tournament. This was held over two lunchtimes and resulted in some very close matches. Hedgehogs eventually came out as winners although they only won one game, drawing the other two. The children showed great sportsmanship and teamwork, congratulating each other and shaking hands at the end of the matches. Thanks go to the House captains for organising their teams and dealing superbly with the difficult challenge of substituting players. Well done Hermione, Fin, Jake and Liam.
Year 5/6 Football Tournament
On Thursday 5th October, we took part in the Northamptonshire Sport Daventry North Year 5/6 football tournament. We had 3 teams this year which was superb. Crick 'A' won their pool, but lost to Long Buckby Juniors and West Haddon A in the finals, which meant they finished 3rd overall. The games were very close and all of the team played brilliantly, particularly Gethin in goal for Crick 'A'. A special thanks go to Mr Bond and Mr Thompson for their support.
Crick 'B' finished 2nd in their pool going on to finish 6th overall with Crick 'C' finishing 7th overall, a superb result!
The enthusiasm and determination of all our players puts us in a strong position for next year's competition, well done everybody!
KS2 Cross Country competition
Our KS2 cross-country squad took part in the Northamptonshire Sport, Daventry Schools KS2 Cross Country competition at Daventry Sports Park in a range of weather conditions from bright sunshine to driving hail! The children raced in their year groups running distances of 900m, 1400m, 1600m and 1850m, much further than many of them had run before (full results will be published here), with everyone pushing hard to the finish line. When they weren't racing they were cheering their school friends on, showing great sportsmanship and respect. We had some super individual results; Shannon 5th, Izzy 9th, Harry P 10th, Penelope 11th, Matilda 14th, with the stand out performance coming from Lewis who won the Year 4 boys race. All of the children gave 100% effort, which resulted in us improving massively on last year's result, and finishing in a brilliant 4th place overall. Well done everyone!
KS2 Primary Arrows Archery competition
Our archery squad gave a superb performance in the Northamptonshire Sport Arrows Archery competition recently, winning the tournament overall, albeit by only one point. This means they go through to the district finals to be held in July. Well done to all the team; Harry, Finlay, Jake, Harriette, Edward and Jacob.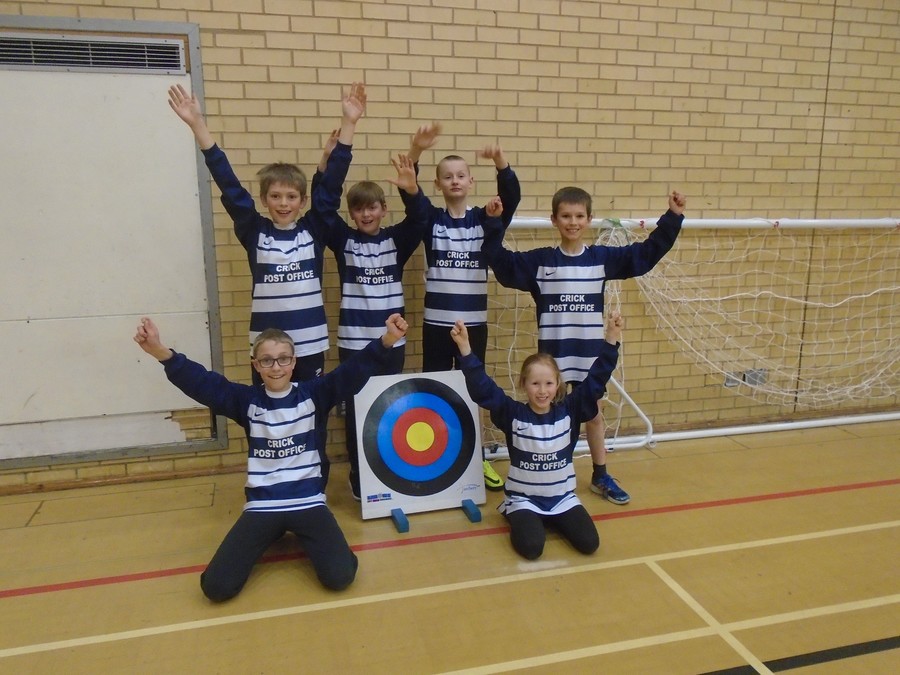 Pacesetter Games Year 5/6 Dodgeball Tournament
Our Year 5/6 Dodgeball team attended the Pacesetter Games Dodgeball Tournament recently. They played exceptionally well and came 4th overall. Well done guys!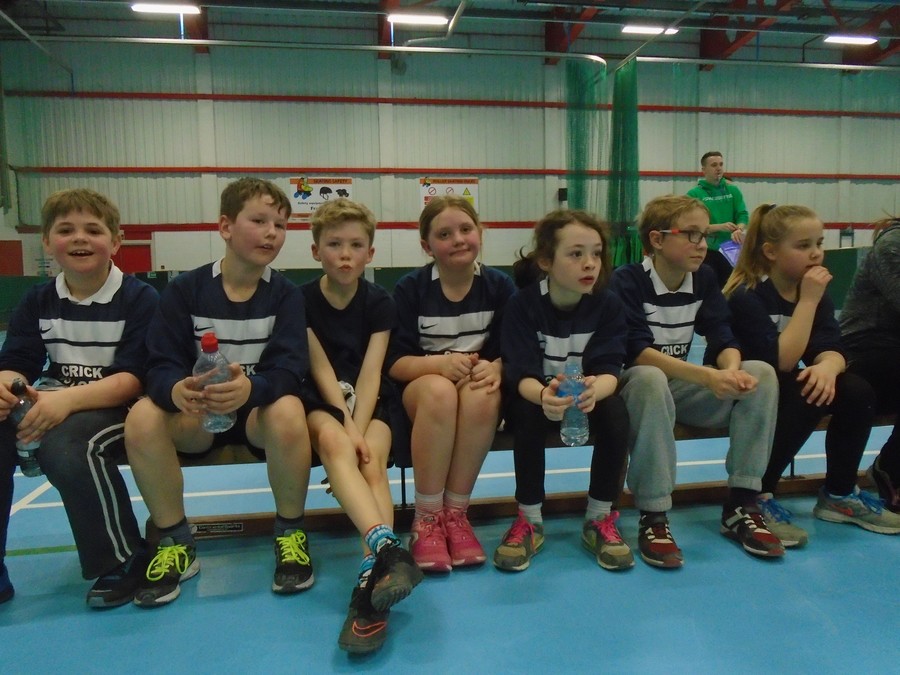 Northampton Saints U7's Tag-rugby Tournament
Our fabulous U7 Tag-rugby squad had a fantastic time at the Tag-rugby tournament held before Northampton Saints Aviva Premiership game against Worcester Warriors. They played superbly, demonstrating brilliant passing, accurate tagging and scored a bucket load of tries. Macey was crowned Saintsgirl of the tournament and will go on to be a match day mascot for Northampton Saints next season.
Well done to the whole squad; Macey, Fraser, Will P-W, William O and Jeffrey.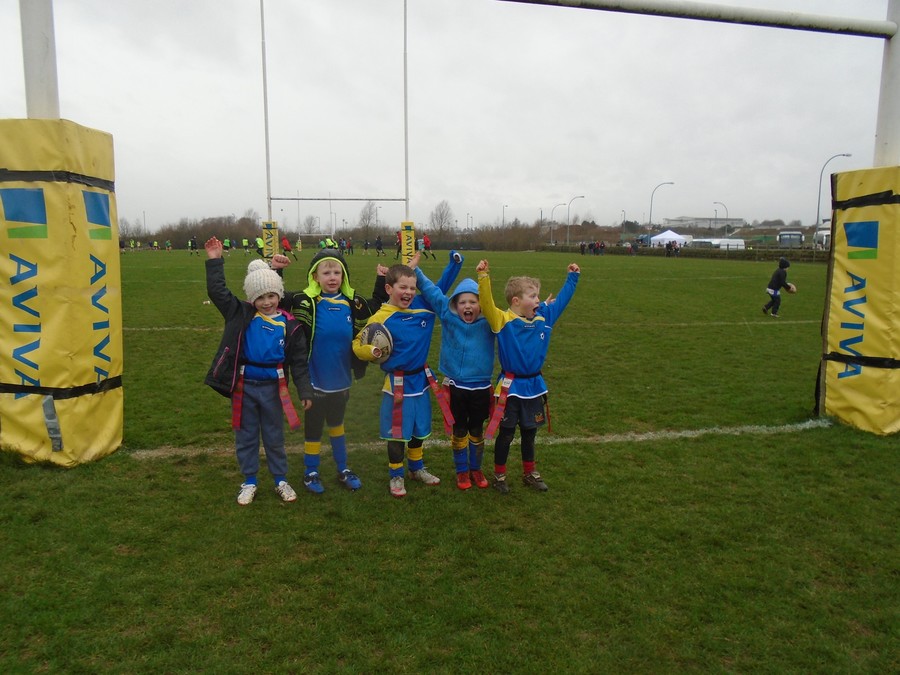 School Games KS1 Multi-sports Festival
Our KS1 Multisports squad performed superbly at the event held at Guilsborough School. They worked excellently as a team demonstrating the Spirit of the Games values.
Daventry Schools swimming gala
Our Year 5/6 swimming squad took part in the Northamptonshire Sport Daventry Schools swimming gala last week, finishing in 12th place out of 18 teams. Each of our swimmers took part in at least 2 races, with Elizabeth and Amy finishing in the top 6 of their respective events. A special mention goes to our 25m Freestyle Relay team who finished in a fantastic 4th place, beating Ashby Fields who won the competition overall!
Everybody gave their very best effort in their own event and the teamwork in the relay events was superb. Well done to you all!
Squad: Gabi, Amy, Alice, Elizabeth, Matilda, William, Harry, Toby, Oliver, James and Oscar.
Pacesetter Games Year 3/4, 5-a-side Football Tournament
On Friday 11th November, our Year 3/4 football took part in the Pacesetter Games Year 3/4 Football Tournament at Benham Sports Arena, Moulton, Northampton. They played superbly, winning every game without conceding any goals; Oliver was the top scorer with 10 goals. Nick from Pacesetter Sports wrote "Your team looked impressive and they overcame an Abbey Team that had a Northampton Town elite player. Onto the next one, well done!"
We are extremely proud of our boys and look forward to the Top 6 finals in July. Well done lads!
Team: Lewis, Oliver, Alfie, Max, Edward, Jamie, Jacob, Josh.
Pacesetter Games Year 1/2, 5-a-side Football Tournament
On 4th November, our Year 1/2 football team headed to Benham Sports Arena under the guidance of Mrs Sabin, to take part in the Pacesetters Football Tournament. They were superb, winning every game by comfortable margin, eventually winning the league. This put them into the 1st/2nd place play-offs, where they came up against Raunds Park A. Having beaten them convincingly 3-0 in the earlier pool games, it was very unfortunate that the team lost 2-1 in the final, meaning they came 2nd overall in the tournament. This does however, mean they go through to the Pacesetter Games Finals in July, where I am sure they will represent the school fabulously. Well done lads!
Team: Jayden, Fraser, Will, Albert, Hugo, Jeff.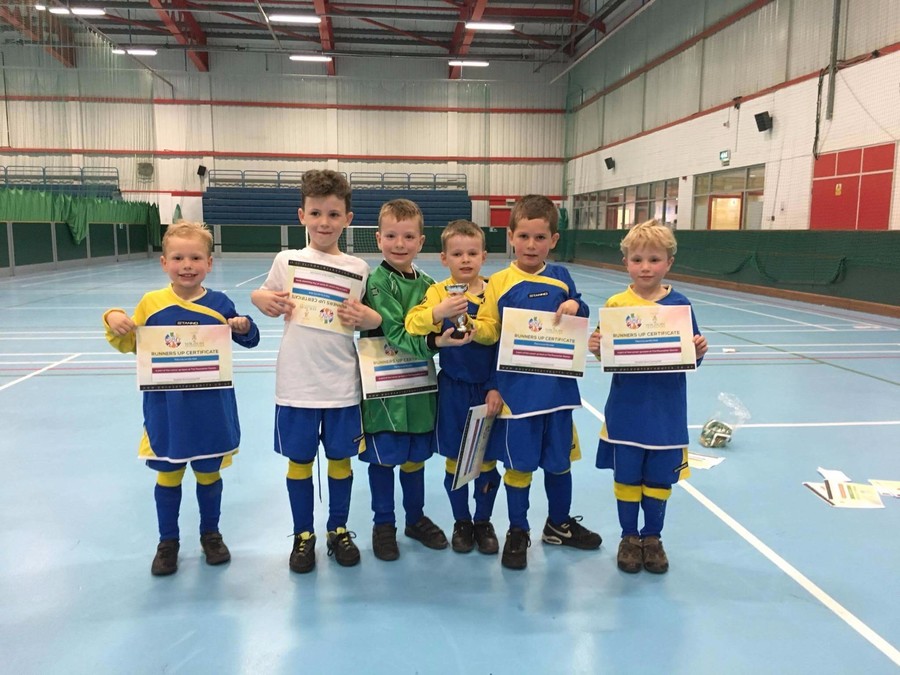 Year 5/6 Tag-rugby Festival
Our Year 5/6 Tag-rugby team recently took part in the Northamptonshire Sport Daventry Schools Festival of Rugby. With 21 teams entered into the event, we were up against strong opposition from the beginning. We entered an 'A' team and a 'B' team in this event and with the valuable support and encouragement from the Northampton Saints coaching team were feeling confident we could achieve a good result. Both teams played some fantastic rugby and all players upheld the School Games values in the true spirit of the event. Our 'A' team finished in a fantastic 3rd place narrowly missing out on the opportunity to represent the cluster in the district finals and our 'B' team (playing with only 6 members as opposed to the 8 required) came a very creditable 8th overall. Spirit of the Games awards went to Shannon for her determination and Oscar J for his self-belief. Well done everybody!