Mrs Rhodes and Mrs Miller are our class teachers.
Mrs Rhodes is in school on Monday, Tuesday and Wednesday morning.
Mrs Miller is in school all day Wednesday, Thursday and Friday
Our teaching assistants are Mrs Hardbattle and Mrs Fisher.
Suggested websites/programmes to try together with your child
PHONICS :
The Year 1 Phonic screening check will take place in June. Click HERE to view sample materials. You may hear your child talking about split digraphs this term. This is where there are two letters that make one sound but they are not next to each other. For example: a-e in cake and i-e in smile. Practice reading pseudo words (alien words) and real words. Remember alien words will not make sense. Often children try to make them sound like a real word that they know already! Ask your child to show you the 'special friends' in the word. They can underline them as they read.
Things to note:
PE is on Tuesdays and Fridays, however full indoor and outdoor kit should be in school at all times. Please ensure

all kit is named

and in school at all times.

The children have the opportunity to read in school every day so please make sure their books and reading diaries are in school every day.

We will try to check the reading diaries daily. However if your child's reading book needs changing at any point in the week, please let us know and we will change it.

Water bottles should be brought to school daily. Please make sure these are named.

Children have access to fruit or vegetables daily and they also have the chance to enjoy a healthy morning snack from home (fruit or vegetables please).
Our Topic for Spring Term 2 is Eric Carle.
Every year, we spend a term focusing on an author. Eric Carle is an author and illustrator and has written over 100 books. We will enjoy reading a range of his books and will also have the opportunity to adapt his stories when we write our own.
Interestingly, The Hungry Caterpillar is now 50 years old. To celebrate this, we will be travelling back in time over the last 50 years to research how books, toys and games have changed over time.
We will have the chance to interview a different person each week and each one of our visitors will have been born in a different decade over the last 50 years. If you follow the school on Twitter then you will be able to see tweets about these interviews.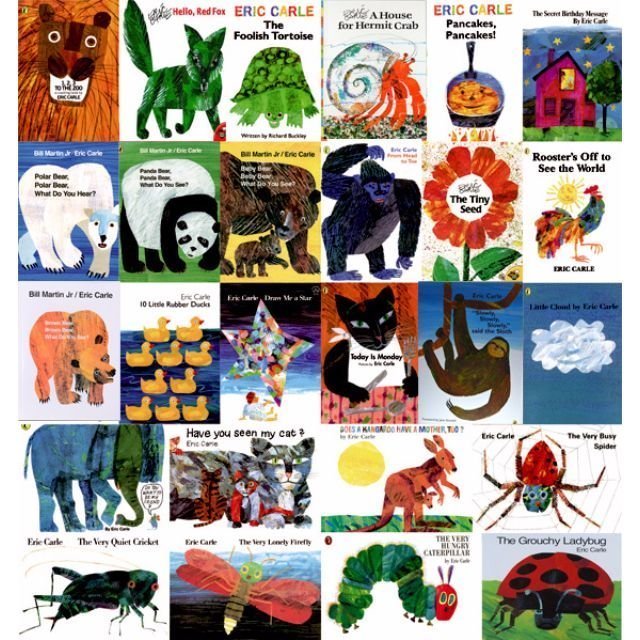 How many have you read?
Below are some photographs of our work last term. Please keep checking the page for photographs of our latest topic.
World Book Day!
Thank you to everyone for the great costumes. We enjoyed sharing our favourite books with each other.
Spring Term 1 - Let's invent!
We enjoyed designing and making robots with Year 2.
We were very fortunate to have 'Wild Science' visit to show us some animals. See below for a selection of photos taken on the day. We were all very brave as we had the opportunity to hold and touch the different animals.
Some of our leaf art from Outdoor Classroom Day
Each week, we join up with Neptune Class (Year 6) to do paired reading.
It is lovely to hear the children chatting about the stories together.