Competition creates the ideal context in which to explore personal values and conduct, as through it young people can learn how to handle victory and defeat, how to believe in their abilities and achieve their personal best, and how to respect their opponents and work with their team-mates to achieve success.
The way in which schools communicate these values and involve young people in championing this cause will help bring the 'Spirit of the Games' to life. This will ensure that competitive school sport is a rich learning experience for our young people, and one which develops them to be not only the best sportsperson they can be but the best person as well.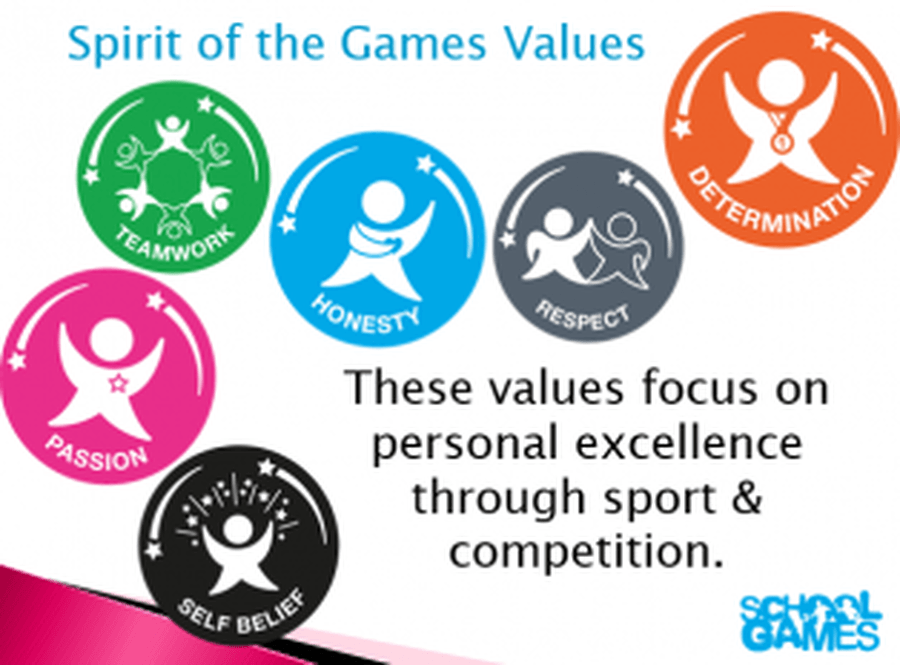 In 2019/20 we were awarded the School Games recognition mark for our engagement and attendance at events during the Autumn (2019) and Spring (2020) terms. We were also awarded the Virtual School Games mark for engagement with Northamptonshire Sports Virtual School Games challenges. With our support Team SND were able to become County Champions on Virtual School Games Day, with over 2,000 children in the district taking part! A fantastic achievement by all involved!
School Games Sports Mark
We are very proud to announce that we have been awarded the School Games gold games mark; testament to the enthusiasm, determination and team work all of the children have put in over the past year. Well done everybody!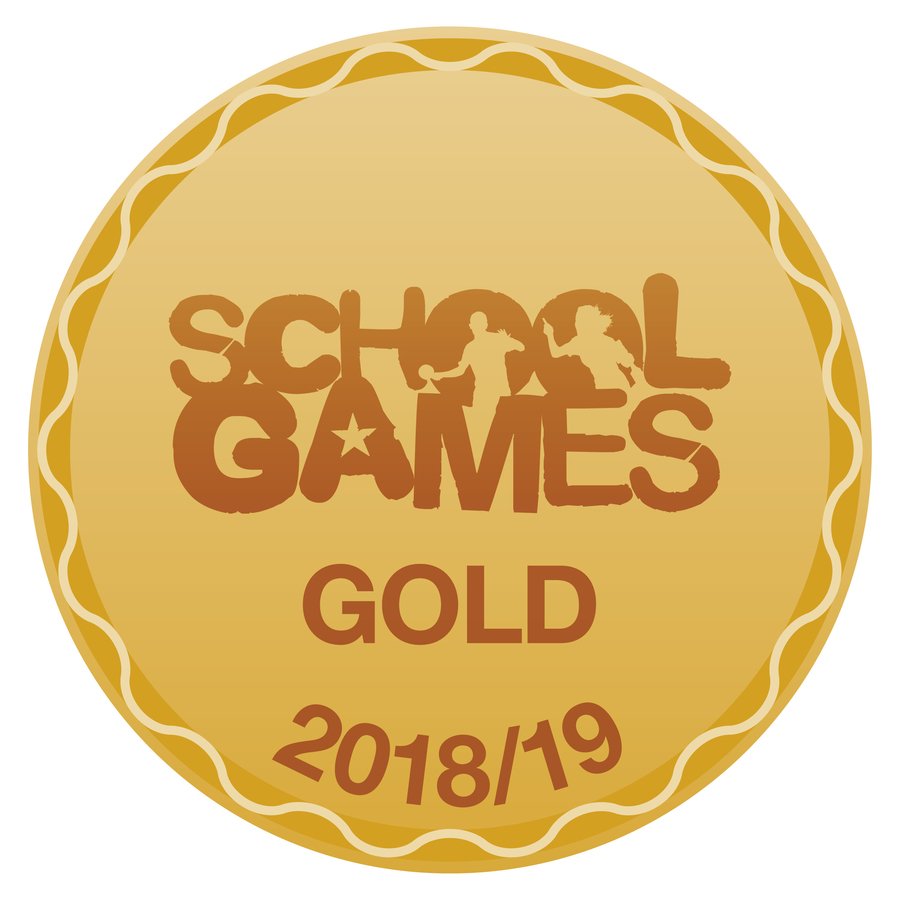 Extra-curricular sports clubs 2022
8:00-8:45am Wednesdays - Year 2/3/4 Gymnastics
3:45-4:45pm - Wednesdays - Year 5/6 Cricket
Competitive sport 2022
12th May 2022 - Kwik Cricket Festival - Year 3/4 at Guilsborough Playing Fields, 1-3pm
19th May 2022 - Kwik Cricket Festival - Year 5/6 at Brixworth Cricket Club, 10-2pm
14th June 2022 - Quadkids Competition - Year 3/4 and Year 5/6 at Daventry Athletics Club, 10-2pm
27th June 2022 - KS1 Throw Festival - Year 1/2, Guilsborough Playing Fields, 3:45-5:45pm
Owls for the win!
The Owls won School Games Day this year, Mrs Chamberlain was very pleased as was Ellamae! The Virtual School Games Day was a great success with the Daventry partnership winning the event overall. The whole school took part in the day with each child taking part in all of the 8 activities/challenges set by Northamptonshire Sport, the points were then registered and sent of to NSport. It was different but enjoyable and even though it rained, everyone had a fun day.
We are proud to announce we came joint 1st in the Gymnastics category (infants) of the Virtual School Games in our district. Thanks to all the children who have been involved whilst at school, and also thanks to parents/carers for encouraging children at home. Let's keep going and see how we come out overall. Well done again to all our Reception and KS1 children, your certificates will be with you soon!
This summer, schools from all over the county will be able to take part in Northamptonshire Sport's showcase school sport event as they launch a 9 week activity programme, culminating in a countywide Summer School Games Day on Thursday 9th July.
Starting on Monday 4th May, the team of School Games Organisers from Northamptonshire Sport will launch a 9 week activity programme consisting of weekly sports challenges, coaching tips, printable sports puzzles and family problem solving activities, all which can be completed in the comfort of your own home with little to no sports specific equipment. Video content and resources will be uploaded daily via the Northamptonshire Sport twitter page (@Nsport) and website (www.northamptonshiresport.org). Viewers will be encouraged to try out the activities at home and share photos and videos of how they get on with a compilation Skills Showcase shared on a Friday afternoon.
The first sport of the Northamptonshire Virtual School Games is Dodgeball with the first set of challenges launched at 10am on Monday 4th July.
For more information, visit www.northamptonshiresport.org/school-games
Daventry District Swimming Gala
We took our Year 5/6 swimming squad to Daventry Leisure Centre to take part in the Northamptonshire Sport swimming gala for Daventry schools. Unlike previous years we could only take one squad of eight swimmers. However, they were fantastic, finishing in joint 6th place out of 16 schools! Amazing, as we were up against teams with many club swimmers. Well done: Lauren, Ava, Gracelyn, Penelope, Damian, Ben, Aaron and Will.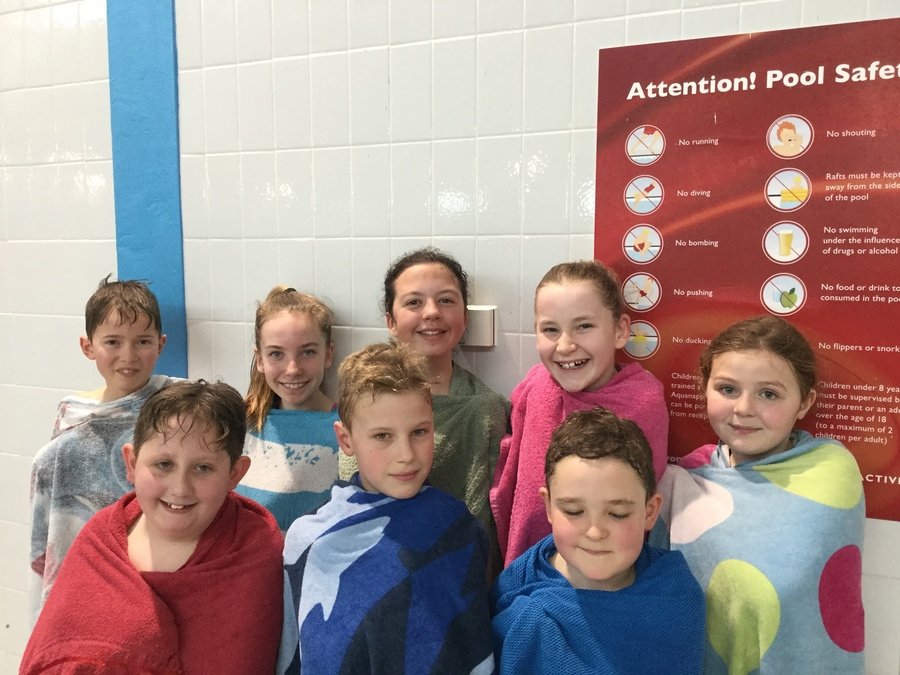 KS1 Superhero Festival
We took 18 very excited Superheroes from Year 1 & 2 to the annual Northamptonshire Sport Superhero Festival, this year held at Guilsborough Academy. The children represented the school superbly, demonstrating the Spirit of the Games values in particular Teamwork and Determination. Mrs Morris was very proud of all of our little superheroes!
Sportshall Athletics
Our Year 5/6 Sportshall Athletics squad travelled to Daventry Leisure Centre, to take part in the Northamptonshire Sport Daventry Cluster event. The team took part in indoor track and field events, which they had been practicing in school. The extra practice paid off and the squad finished in a credible 3rd place out of 14 teams! Only two of our squad took part in last years event, so this was an amazing result. The team demonstrated all of the Spirit of the Games values, with teamwork, determination and self-belief being particularly evident. Well done to the whole squad!
Dodgeball Festival
Our Year 5/6 Dodgeball squads took part in the first Dodgeball competition held by Northamptonshire Sport. The children had been training hard during their after-school dodgeball club sessions and put on a super display to showcase their newly acquired skills. They came up against some stiff opposition and our teams finished in 5th, 6th and 9th places. The all demonstrated the Spirit of the Games values with teamwork and determination being particularly strong. Well done to you all!
Quicksticks Hockey
Our Year 3/4 hockey squad took part in the Northamptonshire Sports Hockey Festival at William Parker E-ACT Academy, where they learnt valuable new skills and played a game with representatives from Long Buckby Hockey Club. The children played with enthusiasm, demonstrating the Spirit of the Games values and representing our school wonderfully. Well done to you all!
Quadkids Athletics
Our amazing Year 3 & 4 and Year 5 & 6 Quadkids squads travelled to Moulton College's sports ground to take part in the Northamptonshire Sport, Level 2 School Games Quadkids Athletics event on Friday 21st June.
Each athlete took part in 4 events: 75m/100m sprint, 400m/600m run, standing long jump and howler. The points for each child were then amalgamated to give a team score. Our Year 3 & 4 squad, entering for the first time, finished in an amazing 5th place out of 11 teams, our Year 5 squad finished 10th out of 12 teams with the Year 6 squad finishing 6th out of 12 teams.
Considering we were competing against 2-form entry schools, the children did superbly. They each competed with the Spirit of the Games values in mind, showing great teamwork, respect and determination. In addition to the overall team results, there are medals for the 'Best Boy' and 'Best Girl' in each age group. We are particularly proud of Louis, who won the Best Boy for the Year 5/6 competition.
Louis ran the 100m in an amazing time of 10.5 seconds and threw the howler an incredible 43m. His standing long jump was also impressive, with his comment "I did all right in the 600m too, even though I'm no good at it", demonstrating just how accomplished an athlete he is. Well done to the whole team for representing our school admirably and particularly to Louis for his outstanding personal achievement, we are all very proud of you!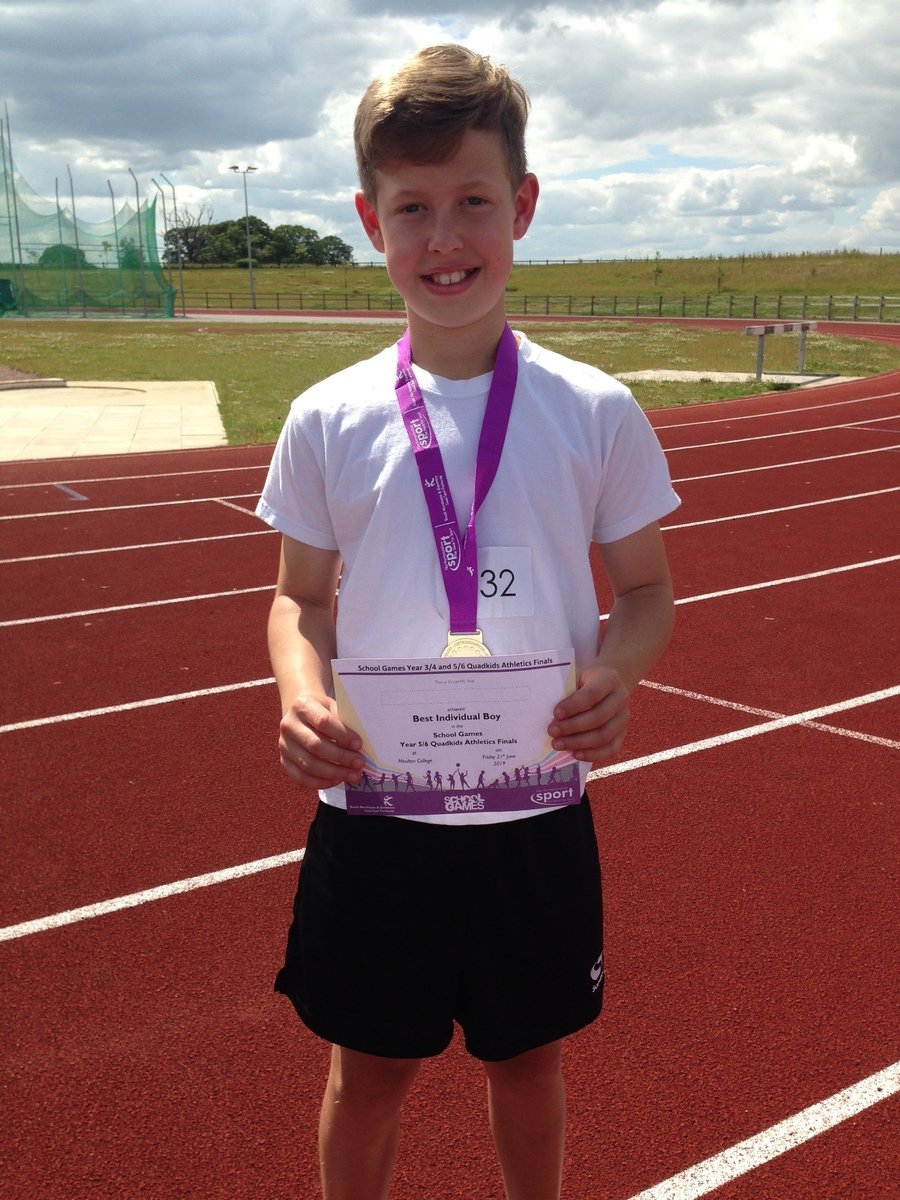 Year 5/6 Inter-house Hi-5 netball
The first inter-house competition of this year was the Year5/6 Hi-5 Netball tournament. The teams were expertly managed and coached by our House captains: Ebony (Owls), Jamie (Rabbits), Millie (hedgehogs) and Max (Squirrels). All of the children demonstrated the Spirit of the Games Values, with some very athletic play being demonstrated (see photos below). After some very close matches, the eventual winners were the Rabbits, with Jacob the highest scorer of the tournament.
Well done to all of the teams!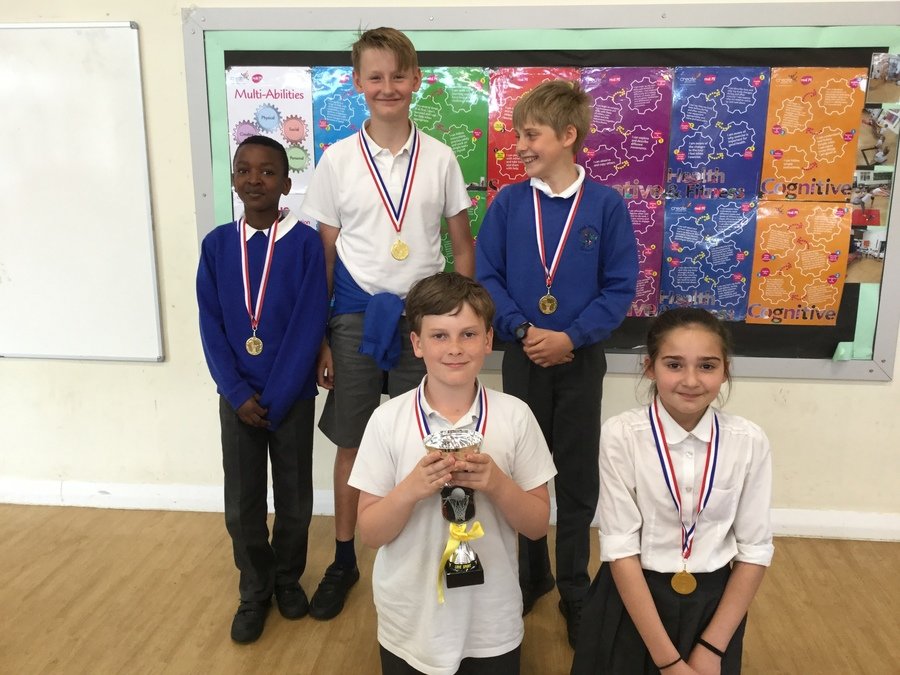 Sports Crew 2019/20
Our new Sports Crew have been chosen! They are: Lauren, Penelope, Ava, Ashley, Ellamae, Maria, Maisy and Elliot - well done to you all on writing fabulous persuasive letters demonstrating why you should be selected! The Sports Crew attended their training in April, where some of the crew took part in a series of workshops aimed at giving them the skill set to be able to set up and deliver a range of lunchtime activities aimed at either the least active, KS1 or for any children working toward their 30 active minutes. The remaining crew took part in an Active School Ambassadors workshop. This workshop gave them a greater awareness of the impact being active can have on their learning and achievement in school and looked into the different ways we can be active at school. The outcome of these sessions it that the children become promoters of physical activity throughout the school day, sharing the good practice they explored during the training day.
Year 5/6 Daventry District Swimming Gala
Our brilliant Year 5 & 6 swimming squads took part in Northamptonshire Sports Daventry Schools Swimming gala in March. This was a very professionally run gala with judges and timekeepers from Daventry Dolphins Swimming Club, with 17 schools from the district attending. Our 'B' team finished 12th with our 'A' team finishing in a fabulous 5th place. The children showed superb sportsmanship, encouraging each other and cheering everyone on, some children had to stand in for others at short notice, which they did with enthusiasm. We are very proud of them all! Well done to the whole squad: Millie, Harriette, Louis, Lewis, Max, Zack, Edward, Penelope, Lauren, Damian, Fin, Ava and Anna.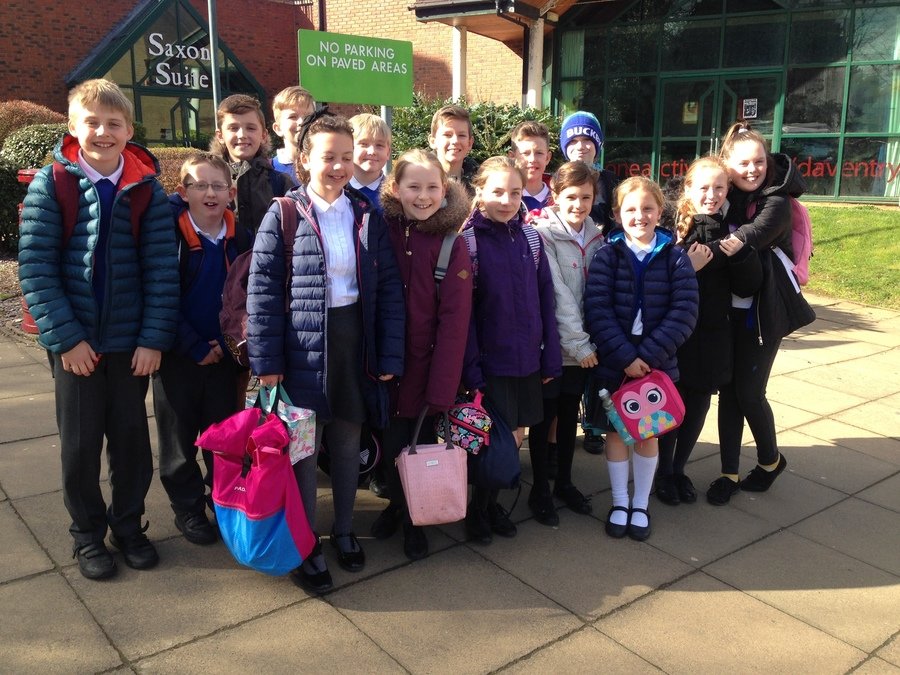 Ks1 superhero festival
Some of our amazing KS1 children recently took part in a new event to our sporting calendar - The KS1 Superhero Festival. They all demonstrated the key values for success in sport: Determination, Honesty, Teamwork, Respect, Passion and Self-belief, and represented the school fantastically. They were polite, listened carefully to the Young Leaders from the Parker E-ACT, were keen to try all the activities on offer and we are extremely proud of them. Well done everyone!
Years 3 and 4 Football Tournament
Our Year 3/4 football squad have worked hard in training and performed superbly at the Northamptonshire Sport, Daventry North cluster tournament. They finished 4th overall, which was a superb result considering the squads finishing 1st and 2nd were made up from Year 4 players only. There were some superb goals scored with brilliant goalkeeping skills demonstrated by Freddie and Rhys. Great teamwork was shown by all with particularly encouraging comments from Kole! The whole team demonstrated the Spirit of the Games values and we are extremely proud of them. Our team were: Kole, Fraser, Rhys, Freddie, Ethan, Archie, George, William and Toby - well done boys!
Inter-house Tag-rugby tournament
This week we held our Year 5/6 Inter-house Tag-rugby tournament. This was held over two lunchtimes and resulted in some very close matches. Hedgehogs eventually came out as winners although they only won one game, drawing the other two. The children showed great sportsmanship and teamwork, congratulating each other and shaking hands at the end of the matches. Thanks go to the House captains for organising their teams and dealing superbly with the difficult challenge of substituting players. Well done Hermione, Fin, Jake and Liam.
Northampton Saints U7's Tag-rugby Tournament
Our fabulous U7 Tag-rugby squad had a fantastic time at the Tag-rugby tournament held before Northampton Saints Aviva Premiership game against Worcester Warriors. They played superbly, demonstrating brilliant passing, accurate tagging and scored a bucket load of tries. Macey was crowned Saintsgirl of the tournament and will go on to be a match day mascot for Northampton Saints next season.
Well done to the whole squad; Macey, Fraser, Will P-W, William O and Jeffrey.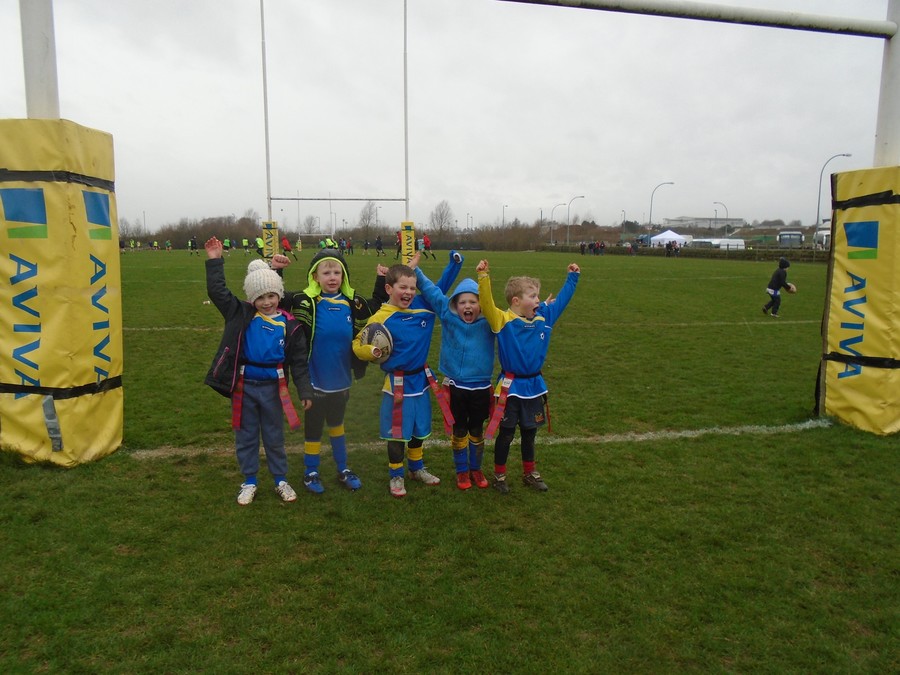 School Games KS1 Multi-sports Festival
Our KS1 Multisports squad performed superbly at the event held at Guilsborough School. They worked excellently as a team demonstrating the Spirit of the Games values.
Pacesetter Games Year 1/2, 5-a-side Football Tournament
On 4th November, our Year 1/2 football team headed to Benham Sports Arena under the guidance of Mrs Sabin, to take part in the Pacesetters Football Tournament. They were superb, winning every game by comfortable margin, eventually winning the league. This put them into the 1st/2nd place play-offs, where they came up against Raunds Park A. Having beaten them convincingly 3-0 in the earlier pool games, it was very unfortunate that the team lost 2-1 in the final, meaning they came 2nd overall in the tournament. This does however, mean they go through to the Pacesetter Games Finals in July, where I am sure they will represent the school fabulously. Well done lads!
Team: Jayden, Fraser, Will, Albert, Hugo, Jeff.