Here at Crick Primary School, we believe that our children are the most important people and we endeavour to give all children lots of opportunities to share their thoughts and opinions and play an active role in the decisions that affect their learning and well-being.
One way we do this is through our Pupil Voice meetings. Each month Mrs Staniforth (our Headteacher) and Mrs Brennan (our Acting Deputy), will have lunch with randomly selected pupils from Reception to Year 6. At these meetings, the children discuss what they like about our school and what they feel could be improved.
Following the meetings, the views of the children are displayed and staff discuss what we could work on and improve.
Meetings will be held on:
23rd September 2022

4th November 2022

15th December 2022

27th January 2023

24th February 2023

24th March 2023

28th April 2023

25th May 2023

30th June 2023

13th July 2023
We had a lovely lunch with our Pupil Voice children on Friday 4th November 2022
What we like about Crick Primary School …
What we would like to change about Crick Primary School ...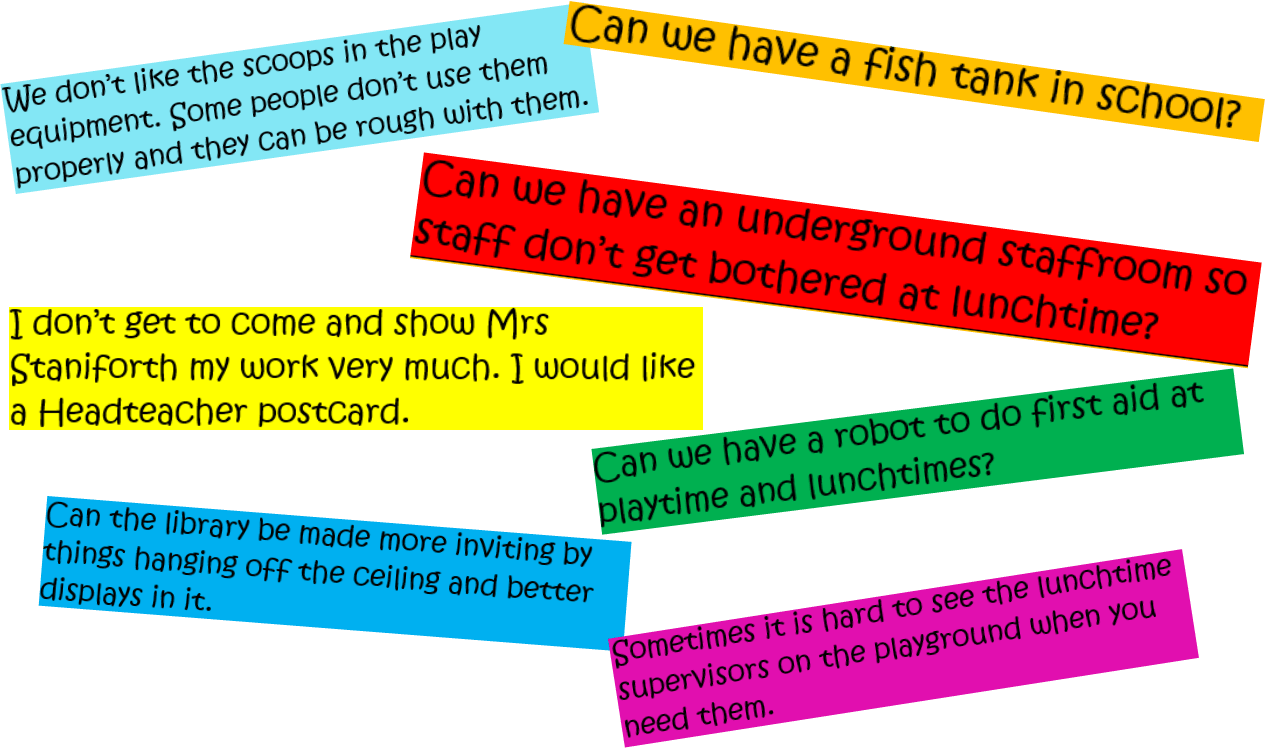 Our response on how we can improve on some of the suggestions you have made.
Mrs. Morris has already mentioned the scoops and she feels they are not being used properly. I will ask the School Council to monitor and see if we need training with them or to get rid of them.

I am sure the staff would love a bigger and better staffroom, but I am afraid this is not possible. I will speak to the Lunchtime Supervisors and make sure the staff don't get disrupted in their lunch break. Thank you for thinking about the staff.

I like the idea of a fish tank in the reception area. I will discuss this with the School Council and see if we can afford it and if this is what others in the school want.

I love seeing pupils work so I will remind the teachers to send me your wonderful work.

What an exciting idea to have a robot to do first aid and I am sure the first aiders would love this. I don't think this will be possible, but maybe the first aider at lunch could wear a high visibility vest to be seen better.

Myself and Mrs. Brennan love the idea of doing up the library. We will certainly look into this idea and see what we can put in place.

I will look into how we can make the lunchtime supervisors more visible for pupils, so you can see them better.