Here at Crick Primary School, we believe that our children are the most important people and we endeavour to give all children lots of opportunities to share their thoughts and opinions and play an active role in the decisions that affect their learning and well-being.
One way we do this is through our Pupil Voice meetings. Each month Mrs Staniforth (our Headteacher) and Mrs Brennan (our Acting Deputy), will have lunch with randomly selected pupils from Reception to Year 6. At these meetings, the children discuss what they like about our school and what they feel could be improved.
Following the meetings, the views of the children are displayed and staff discuss what we could work on and improve.
Meetings will be held on:
7th October 2021

7th November 2021
7th December 2022

27th January 2022 (postponed 3rd February)

24th February 2022

31st March 2022

28th April 2022 (postponed 6th May)

6th May 2022

10th June 2022
11th July 2022
We had a lovely lunch with our Pupil Voice children on Friday 10th June 2022
What we like about Crick Primary School …
What we would like to change about Crick Primary School ...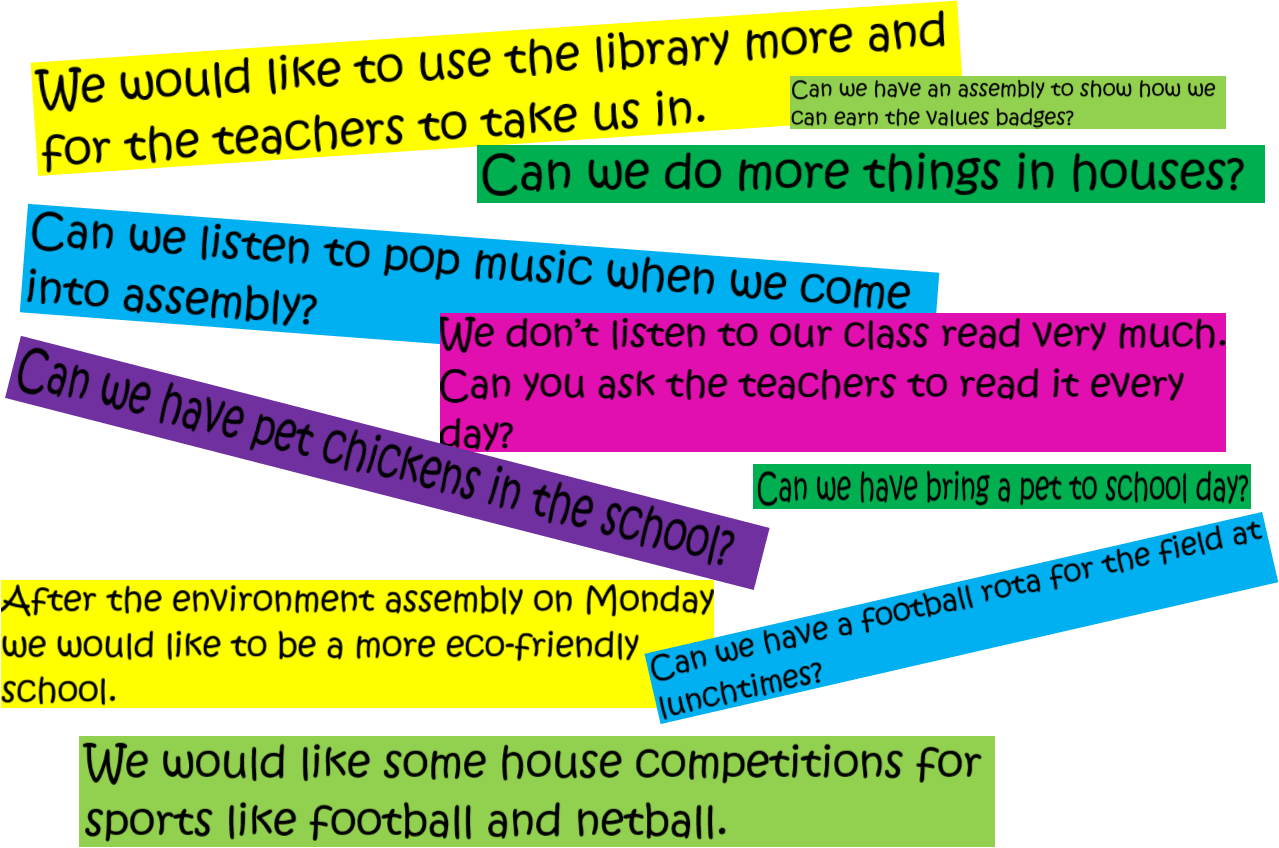 Our response on how we can improve on some of the suggestions you have made.
I will speak to the teachers about using the library more as each class should be going in at least once a week. You should also have the chance to get a free reading book from the library also.

Monday Headteacher assemblies focus on the school values. I will make sure to look at adding in how you can earn the badges to help children earn them. I will also make a display of the things that you can do to earn them.

I have spoken to Mrs Morris and Mrs Brennan and we will add this to the School Development Plan for September to look at more ways we can do things in our houses.

I like the idea of pop music in assembly. I will ask Mrs King to add this to the music timetable, as we like to listen to a range of music. We can also think about listening to it as we leaver celebration assembly.

Class reading should happen daily. Mrs Brennan will speak to the teachers about this and remind them they need to be reading to you all daily.

Mrs Brennan really wants pet chickens too. I will speak to the staff and see if this is a possibility. One will have to be named Gary and another Barlow if we get them.

Bring a pet to school day sound lovely, but I am not sure this will work. Maybe we can bring in photos to talk about our pets.

I love the idea that the school needs to be more eco-friendly. We will be adding this to the School Development Plan and look into how to become an eco-friendly school.

Mrs Morris will be setting up houses football and netball competitions later in June and July.

We normally have a timetable for football in the summer term, so I will ask Mrs Morris to set one up.